2018 HCA Nonprofit Fellows Announced
May 7, 2018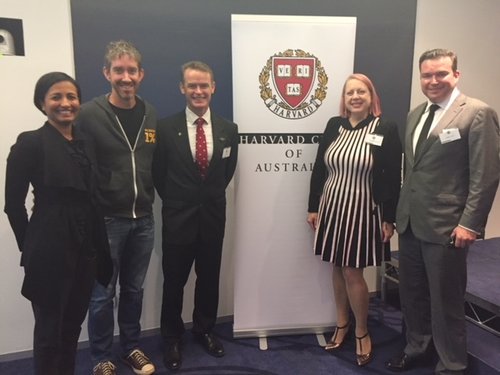 From L to R: Lisa George, Scott Farquhar, Brendan Cox, Annabelle Daniel, Justin Greiner

The Non-profit Fellowship Awards event is an annual highlight in HCA's calendar. This year, nearly 100 Club members and guests gathered at Macquarie Group's global headquarters in Sydney for the luncheon hosted by HCA Nonprofit Chair Lisa George, to meet the 2018 recipients and hear from guest speaker, Scott Faarquhar, Co-Founder and Co-CEO, Atlassian.

The Non-Profit Fellowships of A$12,500 each have been generously supported by Bill and Lea Ferris since their inception in 2001. The fellowships enable two outstanding Australian non-profit CEOs to attend the renowned Harvard Business School course titled "Strategic Perspectives in Non-Profit Management" (SPNM) which is held each year in July.

The 2018 panel was chaired by Lisa George (former HCA Co-President), and included Club members Patrick Regan (former HCA President), Ben Sebel, Anita Kumar (2012 Non-profit Fellow), and Tony Massaro.

Mr. Justin Greiner, HCA President, had the honour of presenting the Awards. The recipients were Annabelle Daniel CEO Women's Community Shelters and Brendan Cox CEO Legacy Brisbane.

Scott Farquhar spoke of Atlassian's Pledge 1% movement, whereby Atlassian donates 1% of profit, product, equity and employee time to charity.

Tony Massaro concluded the event with a vote of thanks.