President's Drinks with special guest speaker David Gainer, US Consul General for Western Australia speaking on
"Will the USA-Australia Foreign Policy Goals change after the 2020 election?"
Thursday 10th December at 6.00pm AEST
Due to COVID-19 restrictions we will switching-up the usual event. We will be hoping you can join us from the comfort and safety of your own home with your guests welcome to join in the fun. Whilst we cannot hold this event in person this year, we are hoping to have as members host other members and their guests in their home (as is permissable by COVID-19 regulations for the state) across Australia join in the virtual celebration. The event will be hosted by HCA President Elizabeth Carr from WA.
Mr. David J. Gainer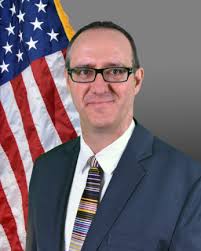 David J. Gainer began his career as a U.S. Foreign Service Officer in Phnom Penh, Cambodia. He subsequently led Public Affairs endeavors at the U.S. Consulate in Chennai, India and the U.S. Embassies in Prague, Czech Republic and Ankara, Turkey, where he was Spokesperson. He has focused on Australia twice in his career already – first as the Visas Chief at the U.S. Consulate in Melbourne, and more recently as the Deputy Director of the State Department's Office of Australia, New Zealand, and Pacific Island Affairs.
Prior to joining the Foreign Service, David taught budget and appropriation law classes for the U.S. Department of Treasury. He earned Masters degrees in American history, African history, and Liberal Studies from the University of Maryland, University of Cape Town, and Georgetown University, respectively, and holds a BA in history from Xavier University in Cincinnati, Ohio. He taught secondary school as a Peace Corps volunteer in Malawi. David has also worked as a disc jockey, hosting weekly music shows on a variety of radio stations, and he speaks Turkish, Czech, Khmer, Chichewa and Xhosa. David is married to Jessica, an art historian and yoga instructor, and they have two daughters.