TWO INSPIRING AUSTRALIANS STUDY AT HARVARD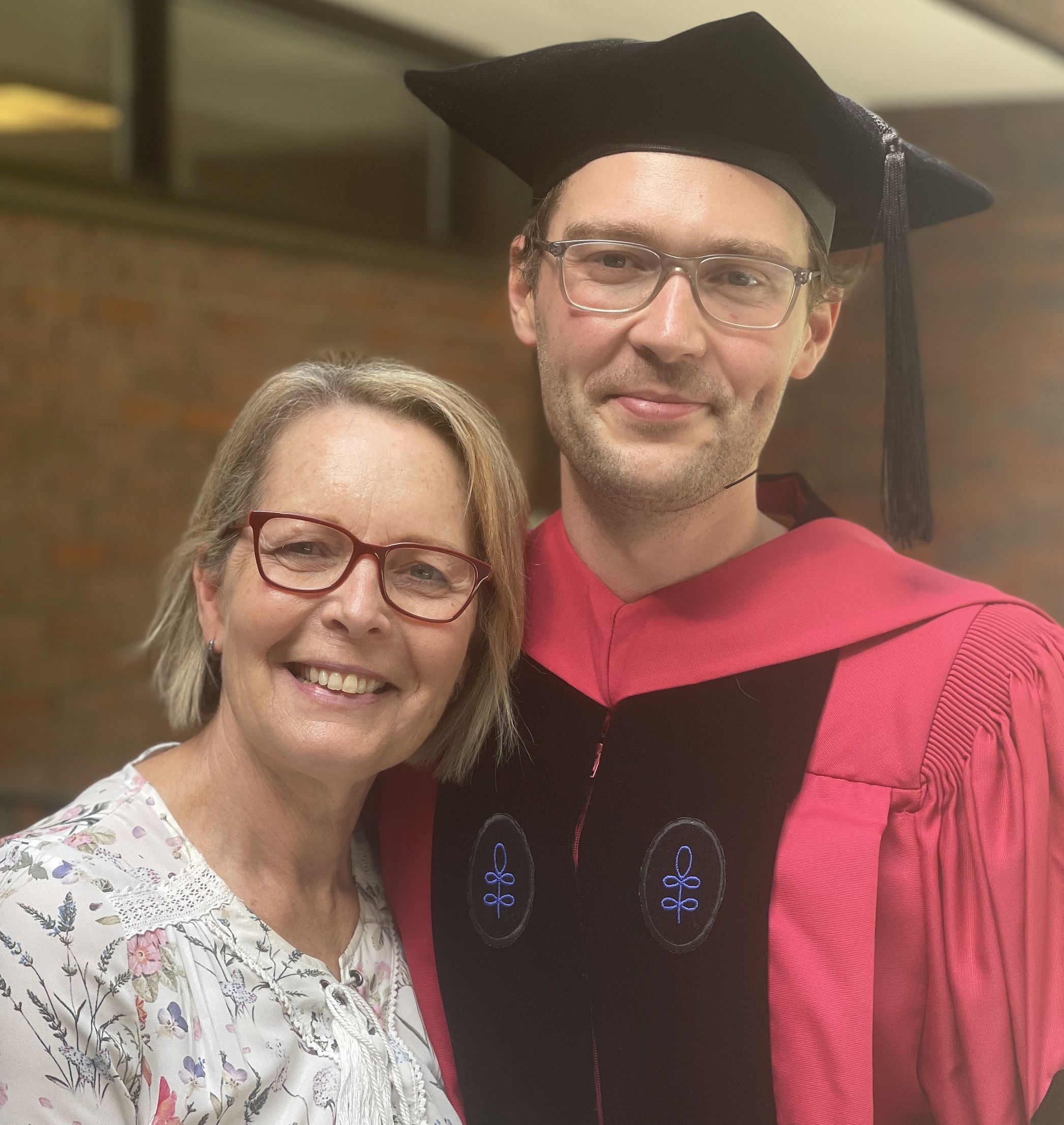 Harvard inspires musical composers. Who knew? Well, two young West Australian doctoral students knew, and they are making the most of it. The first is John Pax (29), pictured last May with his proud mother after receiving his PhD in Music Composition from Harvard's GSAS Music Dept. Home for John is Kalamunda, an hour's drive east of Perth in the Darling Ranges.
As with his previous Masters degree at Harvard, John studied under the tutorship of acclaimed professors Chaya Czernowin and Hans Tutschku, his doctoral thesis examining "the intersection of ancient Greek philosophy and Judaic thought as it appears in my music". In the past, he studied at the universities of Western Australia and of Melbourne where he obtained Bachelor degrees in Art and Music (Composition, Hons I).
John primarily writes for acoustic instruments and electronics. His music has been described as "peaceful but also with a sense of anxiety, a sense of poignancy". It evolves slowly, opens a musical space, discovers it, and searches for a path through which it can transform into another space. John says the Australian bush is a fundamental source of his dramatic and aesthetic inspiration, an aspect of his thinking which has risen to the surface of his recent works.
John is now seeking commissions for new works that he can premiere in Australia, (likely tax deductible). For HCA members with further interest, his website is www.johnpax.com.
---
The second USA-bound student of music will be Perth-based Victor Arul (22) when he heads for Harvard's PhD program in Composition this coming September. Victor holds two similar Bachelor degrees from the same universities as John and, during the past three years, has participated in multiple composition projects, been awarded various coveted prizes and fellowships and had his works performed at more than seven significant national and international events.
For an example of Victor's expertise, look no further than "Interpolations", his contribution as composer-in-residence to last year's Perth Orchestra Project. It explored the idea of "modern" through a program spanning multiple centuries but as interpreted by more recent composers. Said Victor: "Whenever a new work is created, there is always some relationship between it and things which have existed in the past. I see that my music fits into the program as a personal response to the modernist ideals foregrounded in the works, rather than as a logical progression of these artistic products." Harvard Club extends its wishes for success to both men as they develop their careers.