End of Year Address (President's Drinks) with special guest speakers Nick Greiner, AC, Consul General designate, New York and David Gainer, US Consul General for Western Australia speaking on
"Will the USA-Australia Foreign Policy Goals change after the 2020 election?"
Thursday 10th December at 6.00pm AEST
In view of the immense interest in the USA elections, HCA have decided to add to the previously planned discussion and make this event the end of year celebration in lieu of the traditional President's Drinks. We will return to the usual end of year format once COVID restrictions make this possible. Nick Greiner has recently been appointed as the Consul General New York designate and as the Harvard Club of Australia 's Ambassador at Large designate in the USA. He is shortly moving to NY. Nick will be joined on the Zoom conversation by David Gainer, US Consul General for WA for an interesting discussion on the current state of play in the USA. The event will be hosted by HCA President Elizabeth Carr.
Nick Greiner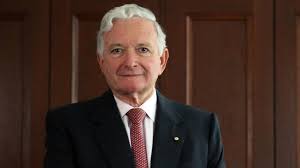 Nick Greiner was Premier of NSW from 1988-1992, and President of the Liberal Party of Australia 2017-2020. He has been Chairman or Deputy Chairman of Harper & Row (Australasia), British American Tobacco (Australia), Bradken, Citigroup (Australia), Coles Myer Ltd, Rothschild (Australia), Stockland Trust, QBE Insurance and Castle Harlan Australian Mezzanine and Chairman of Infrastructure NSW and the European Australian Business Council. Nick was the President of the Sydney Olympic Bid Company and a Director of the Organising Committee; President of both Squash and Soccer Australia.
He has held advisory roles at McKinsey Public Sector Group, Review of GST Distribution and Regulatory Reform (Deloitte) and Governor of CEDA (Committee for Economic Development of Australia, Director of the Sydney Theatre Company. He was awarded a Companion of the Order of Australia for public sector reform and management, and services to the community and in 2001 the Centenary Medal. Nick holds an MBA with High Distinction from Harvard Business School. Nick will take up the post of Australia's US Consul General in New York early in 2021.
David J. Gainer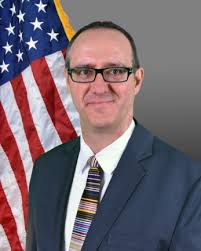 David J. Gainer began his career as a U.S. Foreign Service Officer in Phnom Penh, Cambodia. He subsequently led Public Affairs endeavors at the U.S. Consulate in Chennai, India and the U.S. Embassies in Prague, Czech Republic and Ankara, Turkey, where he was Spokesperson. He has focused on Australia twice in his career already – first as the Visas Chief at the U.S. Consulate in Melbourne, and more recently as the Deputy Director of the State Department's Office of Australia, New Zealand, and Pacific Island Affairs.
Prior to joining the Foreign Service, David taught budget and appropriation law classes for the U.S. Department of Treasury. He earned Masters degrees in American history, African history, and Liberal Studies from the University of Maryland, University of Cape Town, and Georgetown University, respectively, and holds a BA in history from Xavier University in Cincinnati, Ohio. He taught secondary school as a Peace Corps volunteer in Malawi. David has also worked as a disc jockey, hosting weekly music shows on a variety of radio stations, and he speaks Turkish, Czech, Khmer, Chichewa and Xhosa. David is married to Jessica, an art historian and yoga instructor, and they have two daughters.