THE AUSTRALIAN ART MARKET
Join three notable Sydney art professionals on a tour of the Sydney art world. These key players will outline different positions in this multi-facetted marketplace.
The talks will be held on site at galleries/auction rooms with drinks and nibbles included. There will be discussion/question time after each talk.
---
Art gallerist, Tim Olsen - Olsen Gallery, Paddington
Date: Wednesday 18th August.
Time: 6pm arrival for 6:30 start, to conclude by 7:30pm (max)
Address: details provided on booking
Cost: $35 per person with drinks and nibbles included
The talk will tackle the changing nature of collecting. Tim will speak to the ever-shifting trends of the art market and the ways in which personal taste is learned and celebrated.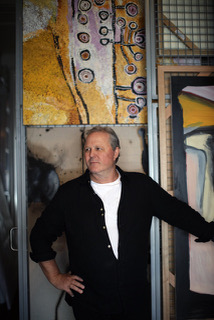 ---
Tim Olsen is one of Australia's most recognised and respected art identities and successful gallery owners. He is son to one of Australia's national living treasures, artist Dr John Olsen, A.O. O.B.E. In 1993, Tim founded his gallery which has today become a leading Sydney institution—representing Australian art in countless art fairs around the world. Along with representing over 40 artists, Olsen has established himself as a key figure in the modern and contemporary art scene of this country and abroad. He is a major donor, benefactor, patron and sponsor of art prizes, scholarships and charities and is regularly invited to be a guest speaker or judge for events that foster art education and creativity in the community. As a creative business visionary, he was recently invited to join EO (Entrepreneurs Organisation), a selected forum of leading entrepreneurs. Tim Olsen's memoir, 'Son of the Brush', was published in November 2020.
---
Later in the year the series will feature :

Secondary art specialist, Annette Larkin - at her gallery, Paddington, Wedneday 29th September - BUYING CONTEMPORARY ART AND THE SECONDARY ART MARKET
Art auctioneer, Ronan Sulich from Leonard Joel auction rooms, Woollahra, Wedneday 27th October - THE VIEW FROM THE ROSTRUM